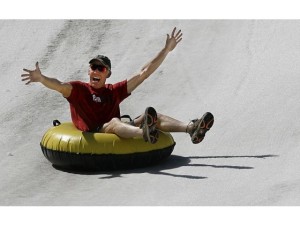 Well he did it!! George pulled an all-nighter with his (almost) 65th Birthday Bash/Day of Insanity. Details to come but we just wanted to share that the day was a HUGE success! Many, many thanks to everyone who supported George throughout the day: Team leader/PT Heather Devito, Photographer Tom Sitton, PR representative Dan McKernan, friends Daniel Morello, John King and most especially George's ever-supporting wife Uli. This took a village to pull off and we did it!
Remember: NO EXCUSES!
George Crezee of Big Bear Lake successfully completed 61 sporting events within a 24 hour period in celebration of his 65th birthday. He started at 3:15 am on Wednesday, April 1st (no joke!) and completed his activities around 3 am the next day. His activities literally took him from the mountains, to the desert, to the beaches and all around Southern California.
George set out to accomplish as many sporting events as he could in hopes of encouraging others to become active. "If a 65-year-old can go out and do a pile of active-lifestyle events, then other people can at least start walking their dog around the block," he said.
Crezee is an accomplished ski racer who has pursued countless sports all his life. He ticked off 26 sports with which he marked his 60th birthday and has tried many of the activities he attempted Wednesday at least once before.
"He does all kinds of sports – all of them, really well. No fear," said his friend John King, a 72-year-old Big Bear resident who ski races with Crezee.
Crezee sped down a snowy slope at Big Bear Snow Play on a yellow and black inner tube, yelling "Wooooo!" as the inflatable spun. "I refuse to grow up," he said.
Months of planning went into the Birthday Bash. Coordination of support crews, equipment, locations and most critically, time was a tremendous effort. But in the end, it all paid off. We received quite a bit of media attention, including coverage from several local Los Angeles news channels.  (See Press for video clips.)
George's goal is to motivate the masses to get out and lead an active, healthy lifestyle. He has spoken before classrooms, small community groups and larger audiences including the 2014 Pasadena Council On Aging.
If you would like more information or would like to schedule George for an upcoming event, please contact him at GeorgeCrezee@gmail.com.
GetOffTheCouchAndGo.com would like to thank the many individuals and organizations who helped to make this day a success.
Big Bear Mountain Resorts – Snow Summit and Bear Mountain/Kyle Wormsbecker & Wade Reeser
Jeep 4×4 School Big Bear/Don Alexander
Big Bear Snow Play/Bruce Voigt
D&G Automotive Big Bear/Dan Gieling
Wheel2Wheel Racing: dirt cart, Victorville fairgrounds
Adams Motorsports Park
Rockreation Costa Mesa
San Bernardino Valley College
24 Hour Fitness Redlands
Nottinghams/The Brewster Family
Big Bear Club Card/Tom & Jeannine Sitton
Above and Beyond Physical Therapy/Heather DeVito
Feed The Machine/Cyril Jay-Rayon
Light & Motion Bike Lights
KBHR/Rick & Cathy Herrick
Shoreline Web Marketing/Laura Nowak-Brown
Holloway's Marina
Goldsmith's Boardhouse
Ken & Dottie Saville
John Boucher
Big Bear Visitors Bureau: Dan McKernan
John King
Scott Towsley
Daniel Morello
Dr. John Walsh Chiropractic
Dr. Larry Polland Chiropractic
Nicole Barrett Massage
And most especially my family, without whom none of this craziness would be possible: my wife Uli and my children Kyle Crezee and Amber Stockham and their families.