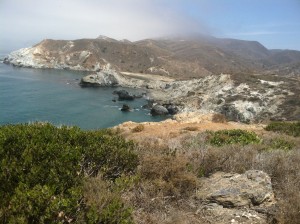 The Catalina Gran Fondo mountain bike race (www.uscup.net) was everything  it was billed to be and more.  Great scenery!  I never realized that the island's interior is so much like a desert – dry and hot!
I took  my buddy Rick  for his second ever race and it happens to be one of the toughest races around.  Whoops, I'm bad!   We were told that this event is  a very difficult one, but in our true fashion we didn't listen. Gee what a surprise.  This was one of the most challenging events that I have ever done .  We rode 41 miles and climbed about 5600 hundred vertical feet with temperatures  well over 100 degrees.  And yes Rick wants to go back next year.
That being said, what a great experience. The people all around are awesome!  Mountain bikers are some of the coolest people. Check out my interview with Robin Brown on YouTube.  If he doesn't inspire you, I don't know who will!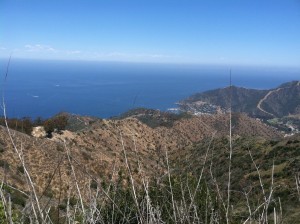 If you ride mountain bikes, this is truly a once in a lifetime event that you don't want to miss. If  you're not a mountain biker, then I suggest you start now!  The places and people are great.
So get out to your local bike shop and start demo'ing some bikes.  You wont regret it.  Bear Valley Bikes in Big Bear Lake (www.bvbikes.com)  is one of my favorite shops.  They have a very knowledgeable staff, a good selection of quality demo bikes plus the trails are close by.
So there you have go out and enjoy and remember –  NO EXCUSES !