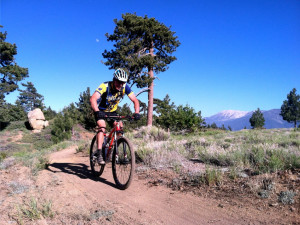 June 16th, 2013 Big Bear Lake:  Day two of the weekend –  the California State Cross Country Mountain Bike Championships.  (What was I thinking?)   In the true spirit of a state championship race,  Team Big Bear put on a very challenging event. I felt "sort of" rested from the day before (the Big Bear Triathlon); better than I thought actually, especially knowing that fatigue would set in sooner than normal. And it really did – "ouch".
The start of the race was really nuts. Our group of maybe 40 to 50 riders went crazy when the flag dropped. It was total mayhem up the climb, like it was a sprint. There is one  advantage to being old as dirt and that is patience.  The course was 17 miles with about 2500 ft of climbing.  I thought  I'm going to pace myself and not get caught up in this sprint and I'm sure glad I did!   It was a struggle climbing the fire roads and single tracks.  The downhill fire roads were fast, but the downhill single tracks are really fun, but unfortunately they do not seem to last very long.  Then as the climb went back up to the top, the course took us to the new three and half mile Skyline Trail.  If you have not ridden this trail, it is  time to. The views are some of the greatest anywhere!
Now I have ridden Skyline a couple of times before, and I knew where the tough sections would be. Even still, there where places I had to get off and hike that I did not expect to.  The course then went back to some older single track downhill to the finish line.  FINALLY YEAH!

I have to tell you mountain biking is so cool.  When you cross the finish line people are cheering for you even though they do not even know you.  How cool is that?  That is one of the reasons mountain biking is so much fun – the people!
Derek Hermon and Bear Valley Bikes did a great job prepping my bike for success once again. They're the best!
So if this old guy can do this, there is no reason you cannot start riding.  It's a great time of the year to be outside.  Even if you are going just around the block, it's a start. Don't wait till tomorrow – start TODAY!
Remember NO EXCUSES!