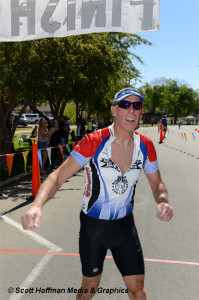 Life is full of surprises,  some good and some not so good.  June 15th 2013 was the Big Bear Triathlon – my first triathlon in 31 years.  There were two distances to choose from: the Olympic and the Sprint distance.  I choose the sprint being that it's half of what the Olympic distance is.  (I'm not totally crazy.)  The Sprint distance was comprised of a half mile swim, 18 mile bike ride and a three and a half mile run – all at about 7000 feet elevation. Let me start by saying  before starting  an active outdoor lifestyle  its really important to get a medical checkup with your family physician.
There are lot of sports you can do without a whole lot of training.  Running is one you can do because you can always start out by just walking if you're too tired to run.  Cycling you can just cruise or pull over and rest.  But swimming in open water is a whole different WORLD.  Just because you can swim in a pool well has almost nothing to do with swimming  in open water such as a lake  like Big Bear Lake. Wetsuits are highly recommended for warmth and better flotation.  The problem is that swimming in a wetsuit for a lot of people is very weird.  It is very common to have a tough time getting the breathing pattern down.  That's what happened to me.  I had a very difficult time in the water.  So difficult in fact that I was calling for help at only 200 yards.  When rescue pulled up, they got me to relax on my back and just float.  Once I could get my breathing calmed down I was able proceed on with the swim.  When I say pool swim and lake swim are way different I mean it.  So how you prepare for an open swim is to practice, practice, practice in open water.  It will be a great accomplishment and well worth it.
So I survived the swim – yeah! I went on to the bike and made up some time even though I have very little road bike miles. I felt like I was flying.  I got around the lake in good time then went on to the run knowing that I had run a total of about one mile in the last two years.  Hey I don't want to over-train, ha ha!
The bottom line is that everybody at and around the event were very supportive.  Cars driving by would encourage, running through neighborhoods people would set up their own water stations for the competitors.  How cool is that? What's really neat is that you can put a triathlon relay team together and you can also join a triathlon club to help you get started.
So if you don't want to have an ordinary lifestyle, triathlons could be a way cool adventure.  So there you have it.  My experience with the Big Bear Triathlon.
Stay tuned for my post about the California XC Mountain Bike race, which I did the next day!  Did I say I'm not totally crazy?
Remember NO EXCUSES!