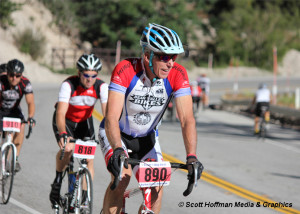 Sometimes sitting around with your buddy having a beer is when you come up with the best ideas… and sometimes not.  I think it is all based on how much beer consumption has taken place. That's how Rick and I decided to ride this year's Tour de Big Bear cycling event.
As we contemplated our plan, knowing that neither of us have not ridden our road bikes very much at all, we discussed which ride we should do:  the 25, 50, 70 or 100 miler. Rick, being the smart one, decided we should do the 50 miler due to our lack of time in the saddle.  Now that we'd made that decision, we drank more beer.  That always clears up any doubt now doesn't it?  Did I mention beer consumption?  As we discussed it further, I convinced Rick that the 70 miler was only 20 miles farther and only 2000 ft of climbing.  No problem, we can do this!  Sometimes Rick thinks I'm crazy (I don't know where he gets that).
Saturday, August 3 is the big day.  We rode with 1500 other people from the Big Bear Village to the dam and found that it wasn't bad at all.  We progressed downhill to the Snow Valley aid station and then back up past the dam to the Discovery Center aid station. These aid stations had everything you could possibly need (even bacon!).   Great job tour staff!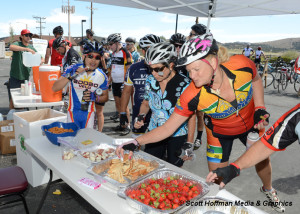 However… now we are starting to feel the pain. Oh crap we have a long way to go.   We head to Baldwin Lake road – not much climbing -yeah!!  We tried to get in and out of each aid station quickly. Sometimes that was tough because each station was like a party!  Rick called in live radio reports to KBHR 93.3 FM at each stop.  While he did that, I filled our water bottles and stocked up on whatever else we needed.
We decided to skip the next aid station and stop by my house as it was along the course.  We pull into my driveway with my wife Uli waiting to give us water, food and gel.  (Thanks honey!)  Well the stop took much longer than anticipated.  I got a flat going into my own driveway – oops!  Better here than anywhere else right?
After the flat repair, we headed up to Onyx Summit with almost 1800 feet of climbing ahead of us – oh boy!   The day before I hung some water bottles on posts on the highway for Rick and I to use for cooling.  I'm really glad I took the time to do that.  We climbed up to the top of Onyx Summit and down to the (much needed) aid station.  We turn around head back to the Big Bear Zoo and now I'm thinking that maybe we should have done the 50 miler.  Rick is not very happy with me now at this point. Well, live and learn.
There are three kinds of riders out here:  the all-out racer (not us), those who just want to finish in a decent time (that would be us) and then those who were just having a good time partying all the way, hanging out at all the aid stations.   There is something for everyone and that's what makes events like this so much fun.
We get to the last aid station and we are tired, like really tired.  We get more fuel and go on to the finish. We were successful in finishing the event and enjoyed the party after.  As we sat down to relax and have a nice cold beer, Rick says maybe next year we should do the… I stopped him and I said the 50 miler?   He said no, the 100 miler.  I think I need to drink more beer.
I awarded my trophies for oldest (70) and youngest (10) riders.  That was so cool – an event for all ages to share.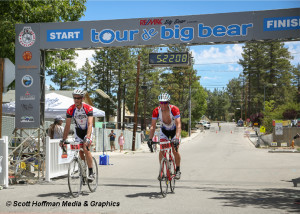 So get on your bike and start riding. You won't regret the great times you and your friends will have – even if some of them are suffering a little together. It makes for great stories by the campfire!
Check out www.TourDeBigBear.com for more information on this ride.  It's a great event – come ride with us! And remember NO EXCUSES !
George